Indo-Bangla Trade : Road Movement Takes the Lead
SOURCE : MARITIME GATEWAY – 
Traditionally Petrapole-Benapole border route has been the preferred means for cargo movement. But high pilferage and long delays at border is an opportunity for coastal shipping to become an alternate gateway for the trade
With the rise of Bangladesh as one of the largest manufacturers of ready made garments, and boost in construction sector due to various infrastructure projects in the country, India's trade with Bangladesh has grown rapidly during the past few years.
Bangladesh is now India's largest trade partner in South Asia with significant movement of raw materials like cotton, cement and steel from India to Bangladesh. As per estimates about 17,088,384 tonnes of goods move between the two countries, however only 0.6 per cent of these goods is moved by waterways and sea mode while roughly 91 per cent of cargo is transported by road. As a result it puts lot of load on the highways and land ports, leading to inordinate delays and congestion at the border.
Coastal shipping remains a nonstarter
 It has been about 3 years since India and Bangladesh signed the agreement in May 2015 to promote coastal shipping. India and Bangladesh in fact agreed upon standard operating procedure (SOP) in November 2015 to operationalize agreement on coastal shipping. As per the SOP, India and Bangladesh need to render equal treatment to each other's vessels as done to their national carriers. Though it paved the way for direct connectivity through sea route with Bangladesh bypassing ports of Colombo and Singapore, but still the coastal shipping route has failed to make a significant cargo shift from road to sea route.
One of the major flaws has been restriction on movement of third-country transshipment cargo on coastal vessels. Another reason for which the quantum of cargo has not picked up is low draft in the upper reaches of Bangladesh rivers and also because of certain nontrade barriers.
There is no significant cargo movement between sea ports of Bangladesh and India as it is not profitable for the big vessels to operate between these ports. Under such circumstances there is a need for smaller ships to provide direct connectivity between Indian sea ports and Chittagong and other ports in Bangladesh. It besides improving the connectivity will also provide competitive freight rates. The biggest impediment in commencing coastal shipping between India and Bangladesh is lack of sufficient river sea vessels.
The road advantage
Shippers despite the undue delays at land custom ports have little alternatives, and continue to show their patronage towards movement of cargo by road. Coastal shipping is beleaguered with various issues and some inherent challenges, but in case of road transport the operators have much longer experience of dealing with the trade on the route.
The over dependence of trade on the Petrapole-Benapole land border route results in delays in excess of about 20-25 days to move cargo from Kolkata to Dhaka. All the cargo on Indian side is handled by a lone warehouse run by Central Warehousing Corporation which is also operating as an integrated truck terminal. As a result the ICP is one of the busiest Land Customs Stations in Asia and handles about 70 per cent of total trade between the two countries.
Meanwhile, some of the infrastructure upgradation at the ICP has added to the popularity of the border passage. ICP Petrapole is located just about 80 kms from Kolkata. A new cargo complex commissioned in 2016 with all amenities has added to the convenience. Since the cargo is moved in open trucks, it gives the choice to shippers to place orders even in very small parcel size. Shippers also shy away to use sea ports due to various procedural issues and multiple handling. On the other hand open truck cargo movement leads to high pilferage. Though the trade realizes that conversion of road traffic to rail and containerized form and multi-modal transport can reduce the logistics costs but the delay at Chittagong makes clearance through the port more time consuming than Petrapole route.
Lack of adequate vessel capacity is another reason for over dependence on road. Indian vessels find it difficult to compete with Bangladesh flag vessels in freight rates because cost of shipbuilding and investment is higher in India. Since August 2017, India and Bangladesh have started round the clock customs clearing facility which has added to faster clearance at Petrapole.
 The much publicized Bangladesh, Bhutan, India and Nepal (BBIN) Motor Vehicles Agreement after the trial run of cargo movement on trucks in August 2016 has so far failed to see the light of the day.
Sanjeev Kejriwal, MD, Petrapole Benapole Logistics and Ashok Transport of India, explaining reasons for preference of road over sea said that Petrapole is the only Customs EDI-enabled land port for cargo movement between the two countries. Hence, if a trader looks to avail any export incentive it is the only land port on offer. Additionally there is support infrastructure across the border such as availability of bonded warehouse at Benapole which makes it easy for truckers to handover cargo there and return back to India.
 Similarly, it is easier for importers in Bangladesh to release cargo from the bonded warehouse at Benapole. While on the Indian side the facility can accommodate about 2,000 trucks and the customs can clear 250-350 truck per day, but there is limited bonded warehouse capacity on Bangladesh side which leads to accumulation of cargo on Indian side. But recently the Bangladesh government allowed 24/7 customs clearance and new warehouses are under construction. Despite signing of BBIN pact, Indian vehicles are not allowed to enter into Bangladesh beyond the bonded warehouse area, and Bangladesh trucks also have similar restriction. Infrastructure is under upgradation on this route and within 1-2 year about 500 vehicles would be cleared through the route leading to shorter transit time, added Kejriwal.
 In the coming decade sea trade is likely to take away 20-25 per cent of cargo load. And in the long run most of the cargo will shift to sea.
 India's trade with Bangladesh has grown to $7,521.79 million in FY2016- 17. As a result it has created pressure on Petrapole border which is choking further trade growth. While the trade is bit hesitant to move out of the tried and tested route and at the same time exporters are also keen to explore sea route if it is consistent and reliable. Governments on both sides also need to ensure that processes and procedures for cargo movement by sea route should be comparative to road movement. Sea route is going to be the future for cargo movement between India and Bangladesh which will be driven by cost, time and cargo safety.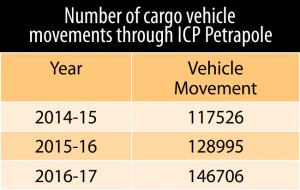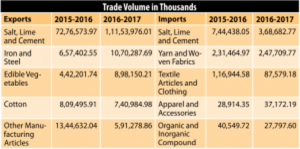 Citing reasons for preference of Petrapole over other routes, Mahaveer Singh, GM (Eastern Region), CJ Darcl Logistics said that for long time it has been in use for trade with Bangladesh due to which there is an established set up for most processes like Customs and other allied facilities. There is a detention cost involved in coastal shipping as a result trade prefers road movement. Moreover, there is not much awareness about coastal shipping among importers in Bangladesh. Chittagong also has long detention time. Additionally, movement through sea port involves additional processes like CFS and customs clearance etc. Apart from poor infrastructure cargo clearing agents at the border are hurdle to the trade. 

Team  member of professional freelancer journalists.
Total Page Visits: 603 - Today Page Visits: 1