Reconditioned vehicles in a large number, imported have been lying at Mongla port for a long time.
Reconditioned vehicles in a large number, imported have been lying at Mongla port for a long time. Although the port authorities started the auction process, there was no response. As a result, a mountain of vehicles is being created in the port. The customs authorities are blaming the case filed by the importers for this situation.
Mongla Custom House Assistant Revenue Officer (ARO) said. Mohid Riyadh told the Bengali Tribune that more than two hundred car importers use the Mongla port. As per the rules, imported vehicles go on the government auction list if they are not cleared within 30 days of arrival at the port. Later, the customs authorities put it up for auction to collect customs and revenue.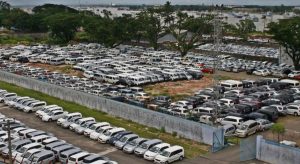 In the last one year till March this year, five thousand 753 reconditioned cars of different brands were auctioned. Of these, only six car buyers have been able to get discounts, he said.
Besides, 50 cars were auctioned in March this year. Of these, tenders were submitted for only two vehicles but none was released.
The assistant revenue officer further said, "Buyers are not interested in buying cars at auction due to the lawsuits of importers."
Abdul Haque, president of the Bangladesh Reconditioned Vehicles Importers and Dealers Association (Barbida), told  : Maybe suing is a fundamental and constitutional right. I don't want to comment on that. "
However, the commissioner of the Mongla Custom House. "We have talked to the National Board of Revenue (NBR) and will resolve the issue through an inter-ministerial meeting," Hossain Ahmed told.
According to port sources, due to the short distance with the capital, vehicles imported into the country since 2009 are unloaded through Mongla port. Till Monday (October 19), a total of one lakh 23 thousand 619 vehicles have been imported through this port in the last 9 years. As such, 80 percent of the total imported vehicles in the country come through Mongla port.
Mongla Port Authority Traffic Inspector. Jahangir Alam told "There are 3,024 vehicles lying in different sheds and yards of our port." At present, about 2,600 vehicles are on the auction list. These cars are auctionable. Of which 485 vehicles were imported between 2011 and 2015.

Team  member of professional freelancer journalists.
Total Page Visits: 910 - Today Page Visits: 1